Special thanks to our keynote speakers from 2017:
---
Wayne Visser
Friday Keynote Speaker
Frontiers in Social Responsibility 
Dr Wayne Visser holds the Chair in Sustainable Innovation and is Professor of Integrated Value at Antwerp Management School. He is also Fellow of His work as a strategy analyst, sustainability advisor, CSR expert, futurist and professional speaker has taken him to 74 countries in the past 30 years to work with over 150 clients, ranging from Coca-Cola, Dell, DHL and HSBC to the United Nations Environment Programme (UNEP) and the World Bank.
Dr Visser describes himself as a professional idea-monger, storyteller and meme-weaver. He sees his mission as helping to bring about transformative thinking and action in business and society. He believes that we all need to be purpose-inspired to make a positive difference.
Dr Visser is a prolific writer, believing that we learn best by constantly challenging ourselves to do research, formulate our thoughts into compelling narratives and share our discoveries and insights. He is the author of 26 books – including most recently The World Guide to Sustainable Enterprise and Sustainable Frontiers: Unlocking Change through Business, Leadership and Innovation. He has published over over 320 chapters, articles and reports and is a guest columnist for The Huffington Post and The Guardian.
A full biography and much of his writing and art is on www.waynevisser.com.
---
Daniela Papi-Thornton
Saturday Keynote Speaker
Tackling Heropreneurship 
Daniela is a social change educator, who designed the Impact Gaps Canvas, a tool used to help budding change makers think like system change leaders. She has taught classes on social entrepreneurship and leadership around the world and worked at the Skoll Centre for Social Entrepreneurship in Oxford's Saïd Business School for five years. As the Deputy Director of the Skoll Centre, she designed new student programming initiatives including a Leading for Impact programme, "apprenticing with a problem" funding, and The Global Challenge, which now runs at 24 universities around the world. She also taught MBA courses at Oxford including the core Entrepreneurship Project course and a course on high-impact entrepreneurship. Daniela is a graduate of Saïd Business School's MBA programme and was a Skoll Scholarship recipient.
Her thought leadership on social change education has been featured in many global conferences, and in key articles read by the social sector, including Stanford Social Innovation Review's third most read article of 2016 called Tackling Heropreneurship. Her report on the same topic continues to be downloaded and, along with her TEDx talks, are used in education programs globally.
Prior to coming to Oxford, Daniela spent six years in Cambodia where she grew a youth leadership organization, PEPY, an educational travel company, PEPY Tours, and an advocacy organisation, Learning Service. Daniela is co-authoring a book advocating for a 'Learning Service' approach to philanthropic and volunteer travel and has worked as a consultant to other social impact organizations, typically supporting their strategy redesign by incorporating her experience in social marketing and user-centered programme design.
---
Linda Coady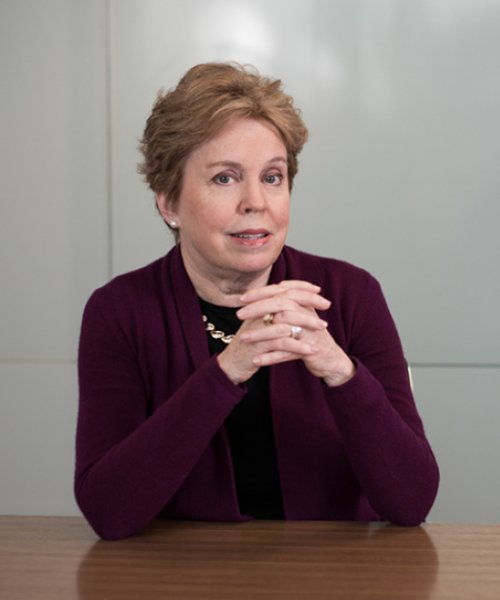 Moderator for our Executive Roundtable session
Linda Coady is Chief Sustainability Officer for Enbridge Inc., North America's largest energy infrastructure company for delivering, transmitting and distributing oil and natural gas, and for generating power and renewable energy. Linda has responsibility at an enterprise- wide level for Enbridge's corporate social responsibility (CSR) and sustainability strategy and initiatives.
Prior to joining Enbridge in 2013, she was Vice-President of Sustainability for the Vancouver Organizing Committee for the 2010 Winter Olympic and Paralympic Games. She is also a former Vice-President, Pacific Region, for World Wildlife Fund (WWF) Canada (WW) and a former Vice-President, Environment, for Weyerhaeuser in British Columbia.
Linda's work on sustainable development challenges has been recognized with awards from Canadian Business for Social Responsibility, the Ecological Society of America, the YWCA and the Globe Foundation for Business and Environment. From 2010-2012 she was a Distinguished Fellow at the Liu Institute for Global Issues at UBC and taught in the MBA Program at UBC's Sauder School of Business. She has consulted locally and globally on sustainability issues in the forestry, mining and shipping sectors, and in Olympic Games planning and development. In 2015, she served as a member of the Government of Alberta's Climate Advisory Panel.
---
Minister Joe Ceci
Opening the Forum and launching the Executive Roundtable  
Known as one of Alberta's most effective municipal leaders, Joe served as a City of Calgary alderman for 15 years where he was Vice-Chair of the Finance Committee and Chair of Community Protective Services, among other senior responsibilities. At city hall, he was widely admired for his ability to bring diverse coalitions together, and for his ongoing commitment to build Calgary's social and economic infrastructure.
In 2005, Joe was selected by his peers to represent Calgary on the national stage, as the City's representative to the Federation of Canadian Municipalities (FCM). Recognizing the depth of his experience as a municipal leader, Ceci was elected Chair of the Standing Committee on Social Economic Development and Vice-Chair of the International Committee of the FCM. After five years of distinguished service at FCM, and five terms as a respected Alderman, Joe retired from municipal politics in 2010 joining Calgary-based Momentum as Manager of public policy.
On May 5, 2015, Joe was elected to the Legislative Assembly representing Calgary-Fort and was later appointed to serve as President of the Treasury Board and Minister of Finance.
Joe holds his Bachelor degree from the University of Western Ontario, and a Master's degree from the University of Calgary. Among his many accolades are a Queen's Diamond Jubilee medal, and an Alberta centennial medal.
Joe and wife, Christine live in Calgary.
---
Henry Doss
Saturday Afternoon Feature Session Speaker
The Rainforest: Cultivating and Innovation Ecosystem
My business experience spans 35 years, primarily in banking, venture capital and consulting, and I have done extensive, life-long work in non-profits as a volunteer. My primary business background is in the financial services area. For the past few years, my work has been primarily in the area of innovation ecosystem consulting, the merger of theory and practice in innovation culture work, and the study of innovation leadership. In particular I'm interested in the correlations between culture and performance in large-scale organizations.
As a volunteer, I currently serve as the Executive in Residence for the College of Liberal Arts and Sciences at UNC – Charlotte. I coach and mentor students, contribute to curriculum improvements, and I support faculty and staff in special projects. I've also served my community in other roles: UNC – Charlotte: Dean's Advisory Council & Past President, Alumni Board of Governors; Habitat for Humanity; Hospice; Olivet College (Trustee); The Charlotte, NC, Chamber of Commerce; The United Negro College Fund; Project Head Start; Board Chair, The National Committee for the New River; Board Member, AdvantageWest (The Western North Carolina Regional Economic Development Commission).
I am also an adjunct faculty member in the English Department at UNC Charlotte. In the current semester (Fall 2017) I teach British Renaissance Literature.
I write extensively on innovation, the impact of humanities studies on personal growth, and innovation leadership. I have written for Forbes, and the archive of my columns can be read here. My book, "The Rainforest Scorecard", provides a tool to measure the innovation potential in organizations.
In my spare time, I am a musician/singer-songwriter. My first single "I Think About You," released by Lamon Records in Nashville, reached #27 on Adult Contemporary Top Hot 40 Chart. My second single, "Just The Way," was released on June 26, 2017.
---
Boris Martin
Saturday Afternoon Feature Session Speaker
International Development Roundtable
Boris is the CEO of Engineers Without Borders (EWB) Canada. He lives in Toronto with his partner Alanna and two+1 children, Kyan, Anika and soon to be born baby girl 🙂 His mission at EWB is to build a global movement of socially and systemically minded youth to usher in sustainable and inclusive economies through social innovation.
He first connected with EWB in 2003, as a volunteer and chapter president. In 2007, with his PhD thesis still in the press, he took off for Burkina Faso, where he lived like an average citizen and developed a national strategy to build the adaptive capacity of large farmer organisations. During that time he also co-founded FasoMarket, an indigenous foods distribution start-up. In 2011, he joined EWB executive team as Vice President of Strategy and Investment and led the development of EWB's impact model, combining leadership development, venture incubation and policy advocacy to unlock sector wide change. Inspired by the potential of the organisation, he stepped up as CEO in 2014 to bring EWB's impact model to a global scale.
Boris holds a PhD in engineering from McMaster University and a Graduate Diploma in Social Innovation from the University of Waterloo.
---
Ed Temple
Forum Emcee 
Ed is the Director of Philanthropy for Alberta for Opportunity International, a world class microfinance organization. He currently serves as the Fig Tree Roundtable facilitator and provides executive coaching and coach training for social enterprises and charities.
---